About Rebecca

Rebecca first began her study of the Alexander technique in San Diego in 2005.
An accomplished ballroom dancer and dance instructor, she was looking for a new way of relating to her body and improving her movement in life and on the dance floor.
"The Alexander Technique was the perfect discovery for me. I became intrigued by it.... I learned that I can move my body with awareness, efficiency and ease in every aspect of my life. Through my studies in this technique, I've developed an appreciation and curiosity for the magnificent design of the human body and mind."
Rebecca received her Alexander Technique training in San Diego and was certified in 2010 by Alice Olsher, who trained with and worked alongside Walter and Dylis Carrington.
Rebecca has been teaching and performing ballroom and social dance in San Diego since moving here in 1996. She has been trained in the traditional Ballroom and Latin dances as well as East Coast Swing, West Coast Swing, Lindy -hop, Balboa, Salsa, and Argentine Tango. Integrating the principals of The Alexander Technique into her work as a ballroom dance instructor is one of Rebecca's core interests. Her intention in teaching dancers is to help performers as well as social dancers feel more connnected to themselves and their partners in movement...and to help them create less pain.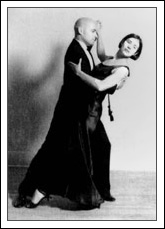 Originally from Pennsylvania, Rebecca was educated at The Pennsylvania State University. She received her BA in Integrative arts, and her studies have encompassed painting, sculpture, photography, printmaking, and ceamic arts. Her current artwork is a combination of abstract and impressionistic images.
Rebecca Grohowski is an AmSat and ATE certified Alexander teacher in the San Diego area.
She currently teaches out of her private studio in Pacific Beach.